Welcome to the Kelso Longview Chamber of Commerce
Our role today is to create a successful economic environment within the community for our members; to promote the community; to create new and effective networking opportunities to increase business for members; and to represent members' interests at local and state government.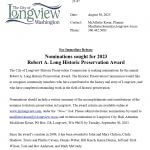 Nominations sought for 2023 Robert A. Long Historic Preservation Award Date: August 30, 2023 Contact: McAllister Kosar, Planner Mcallister.kosar@ci.longview.wa.us Phone: 360.442.5083 The City of Longview…
Learn More
Register Now for
Small Business Bootcamp!
Friday, September 29, 2023
Friday Mornings - 7:30 am - 9 am
1145 14th Ave, Longview, WA 98632