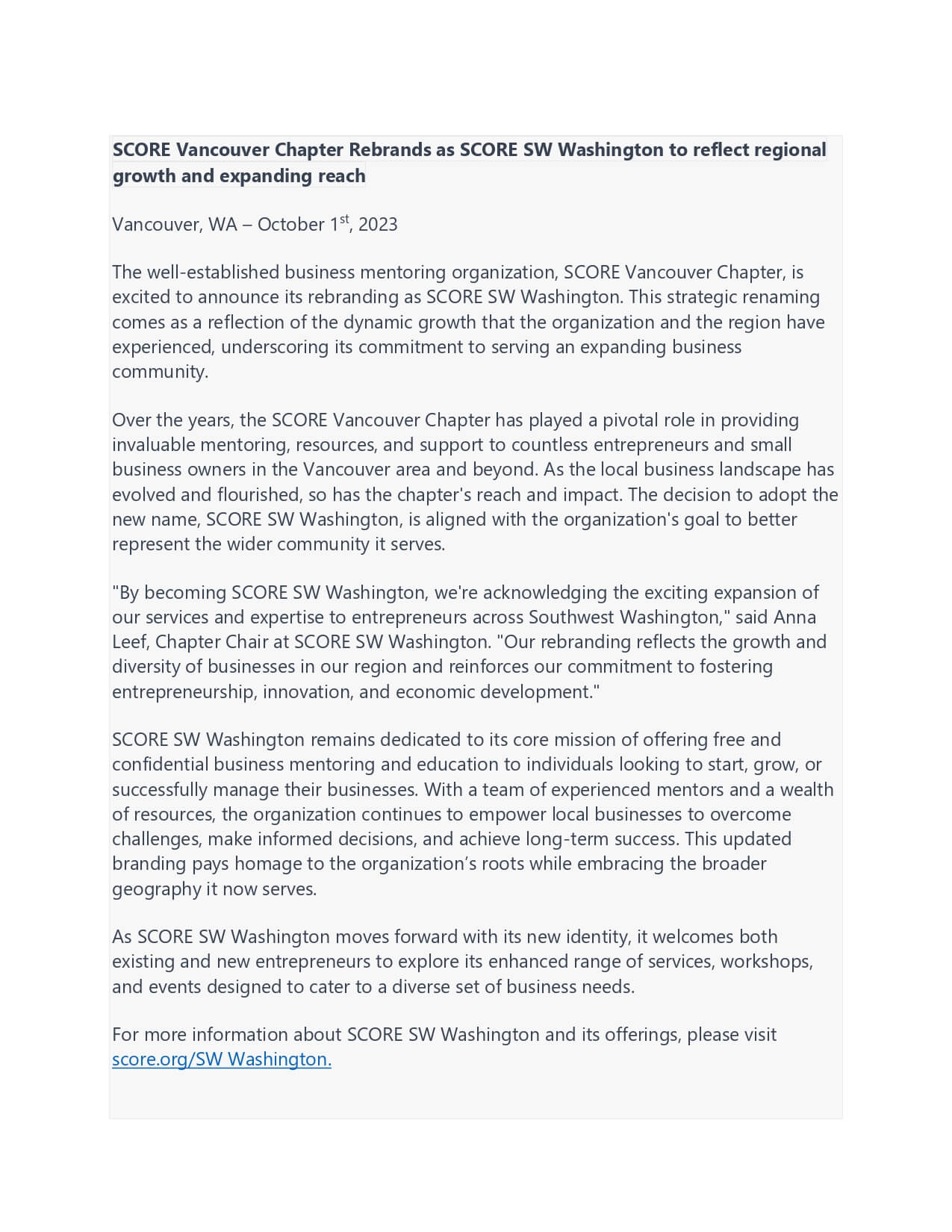 SCORE Vancouver Chapter Rebrands as SCORE SW Washington to reflect regional growth and expanding reach
Vancouver, WA – October 1st, 2023
The well-established business mentoring organization, SCORE Vancouver Chapter, is excited to announce its rebranding as SCORE SW Washington. This strategic renaming comes as a reflection of the dynamic growth that the organization and the region have experienced, underscoring its commitment to serving an expanding business community.
Over the years, the SCORE Vancouver Chapter has played a pivotal role in providing invaluable mentoring, resources, and support to countless entrepreneurs and small business owners in the Vancouver area and beyond. As the local business landscape has evolved and flourished, so has the chapter's reach and impact. The decision to adopt the new name, SCORE SW Washington, is aligned with the organization's goal to better represent the wider community it serves.
"By becoming SCORE SW Washington, we're acknowledging the exciting expansion of our services and expertise to entrepreneurs across Southwest Washington," said Anna Leef, Chapter Chair at SCORE SW Washington. "Our rebranding reflects the growth and diversity of businesses in our region and reinforces our commitment to fostering entrepreneurship, innovation, and economic development."
SCORE SW Washington remains dedicated to its core mission of offering free and confidential business mentoring and education to individuals looking to start, grow, or successfully manage their businesses. With a team of experienced mentors and a wealth of resources, the organization continues to empower local businesses to overcome challenges, make informed decisions, and achieve long-term success. This updated branding pays homage to the organization's roots while embracing the broader geography it now serves.
As SCORE SW Washington moves forward with its new identity, it welcomes both existing and new entrepreneurs to explore its enhanced range of services, workshops, and events designed to cater to a diverse set of business needs.
For more information about SCORE SW Washington and its offerings, please visit score.org/SW Washington.